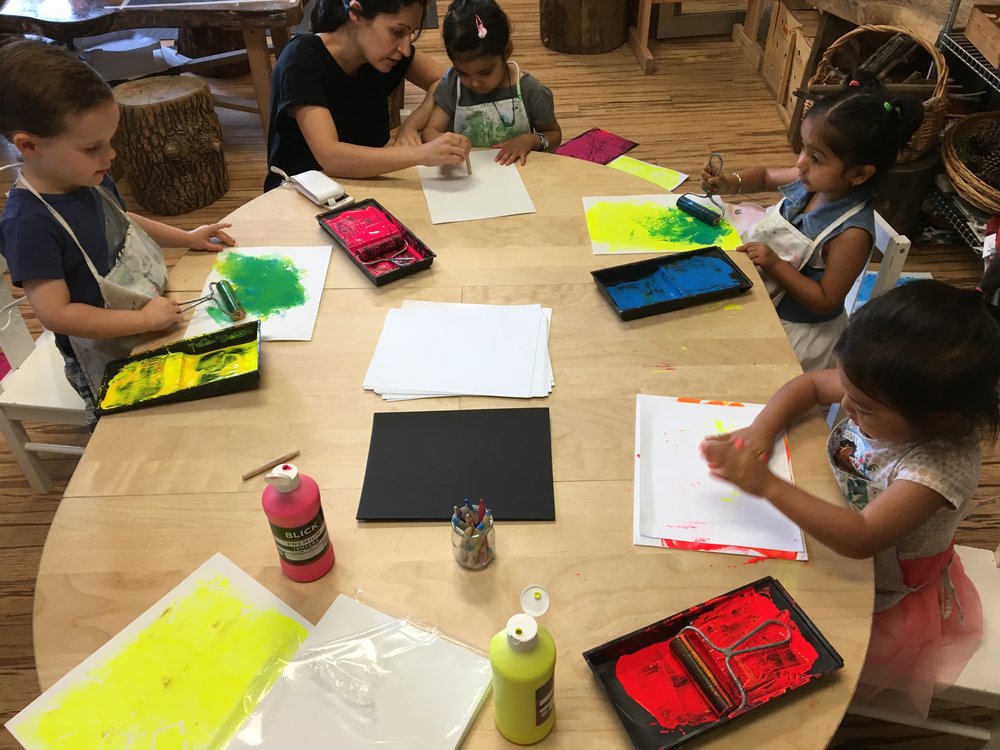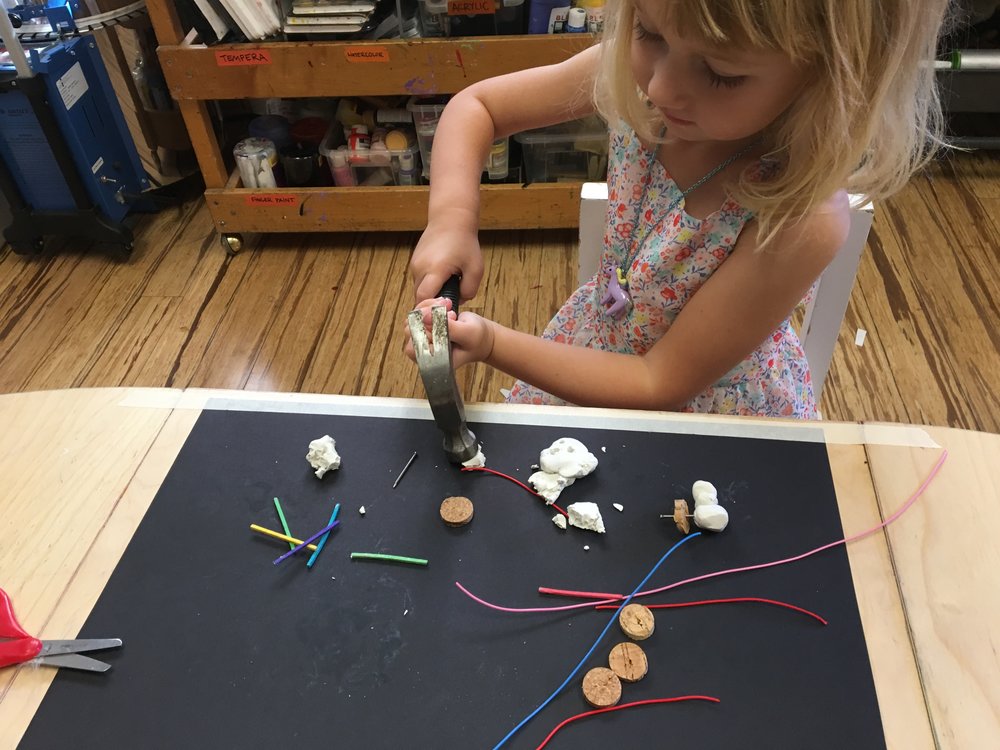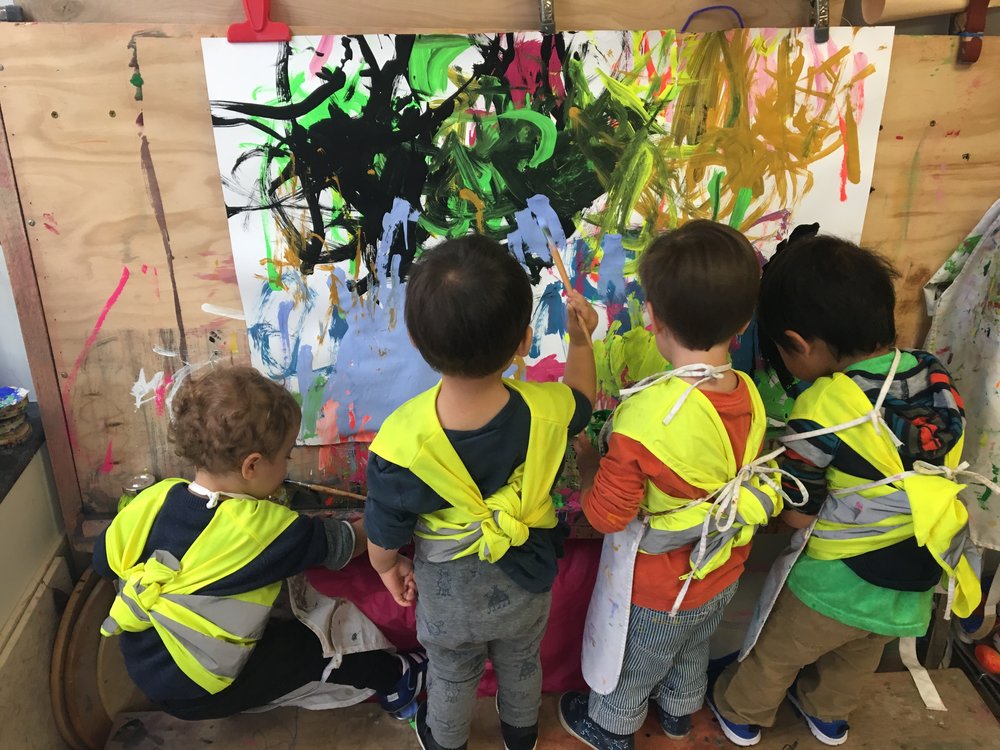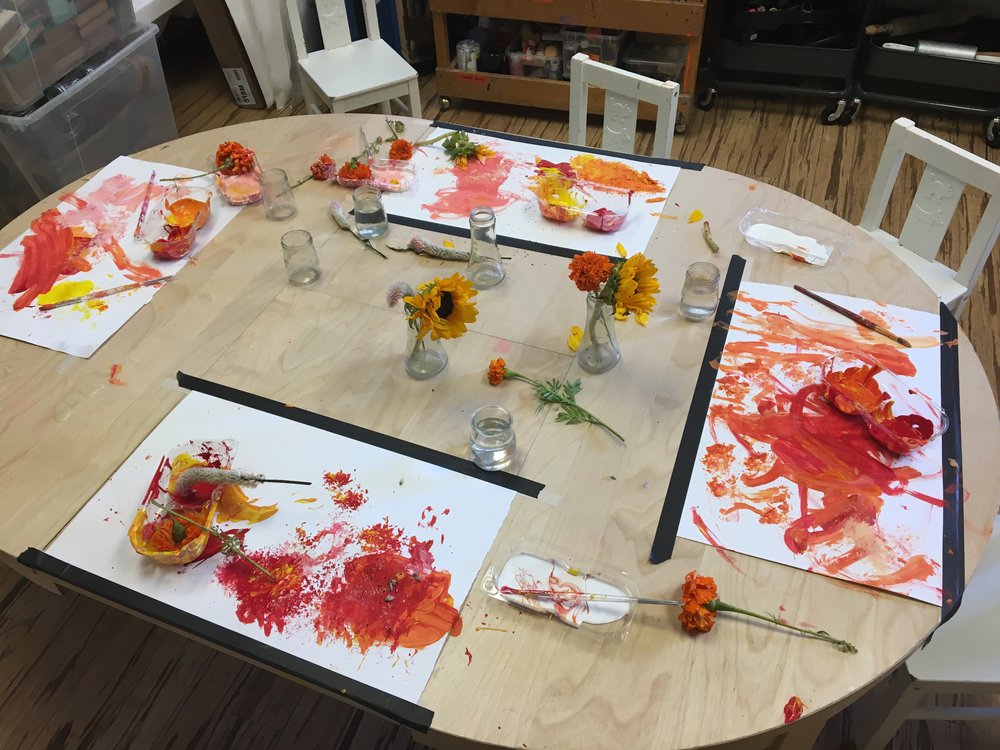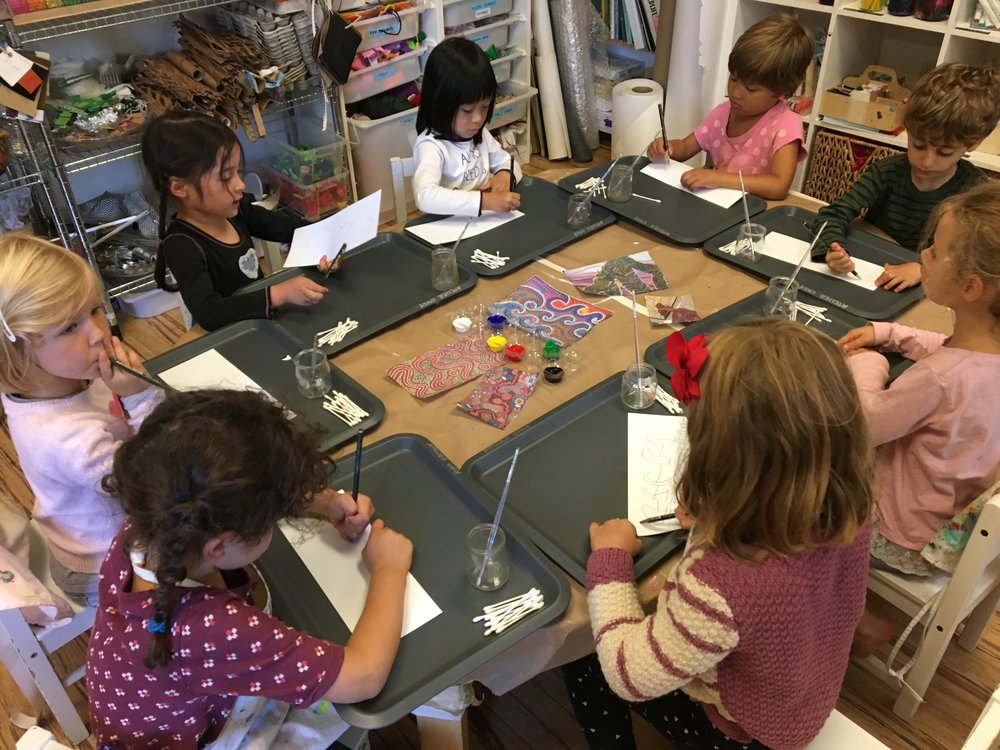 Here at Scandi School, in the 210 building, lives and breathes our MAIN ATELIER, a place where we come together in groups small and large to create, explore, experiment, question, challenge, theorize and play. We learn about ourselves, each other and the world around us through working together, using a wide range of materials and techniques. We let the process be our main agenda and our main focuses are building relationships, cultivating creative intelligence and fostering senses of wonder and joy. Our children, teachers, parents and community coexist on even playing field here. We all have something to bring to the creative table and there are no limitations to what we can learn from one another. Elements of nature, community, empathy, intelligence and aesthetic are all present here. Whether we are working with clay, discovering woodworking tools, taking pleasure in paint, exploring various printing techniques, expanding ways of storytelling or building our drawing skills, we remember to give an equal platform to multiple perspectives to inform our collective thinking, to keep on learning and growing together using the 100 languages.
Often times when we talk about Emilia Reggio approach, we talk about the atelier as a living organism. Here at Scandi, we truly witness just that. The contours of the atelier expand way beyond its actual space, they wrap around the whole school and travel outward with our teachers, children and parents, fostering creative connections and possibilities throughout, fueling the vehicle for self-expression, play and change.
THEY WAY WE WORK
We divide our time in the atelier into three distinct categories. Each category gives us an opportunity for different type of work with materials and each other.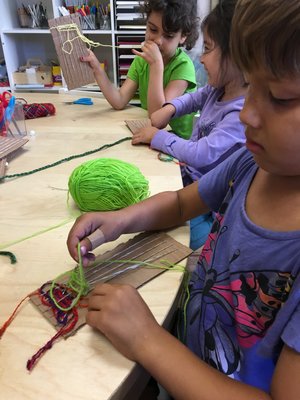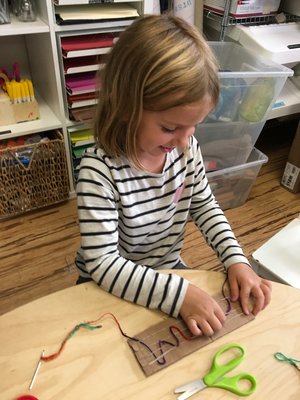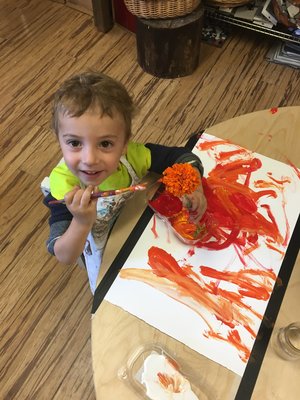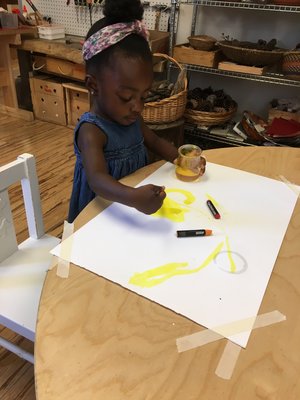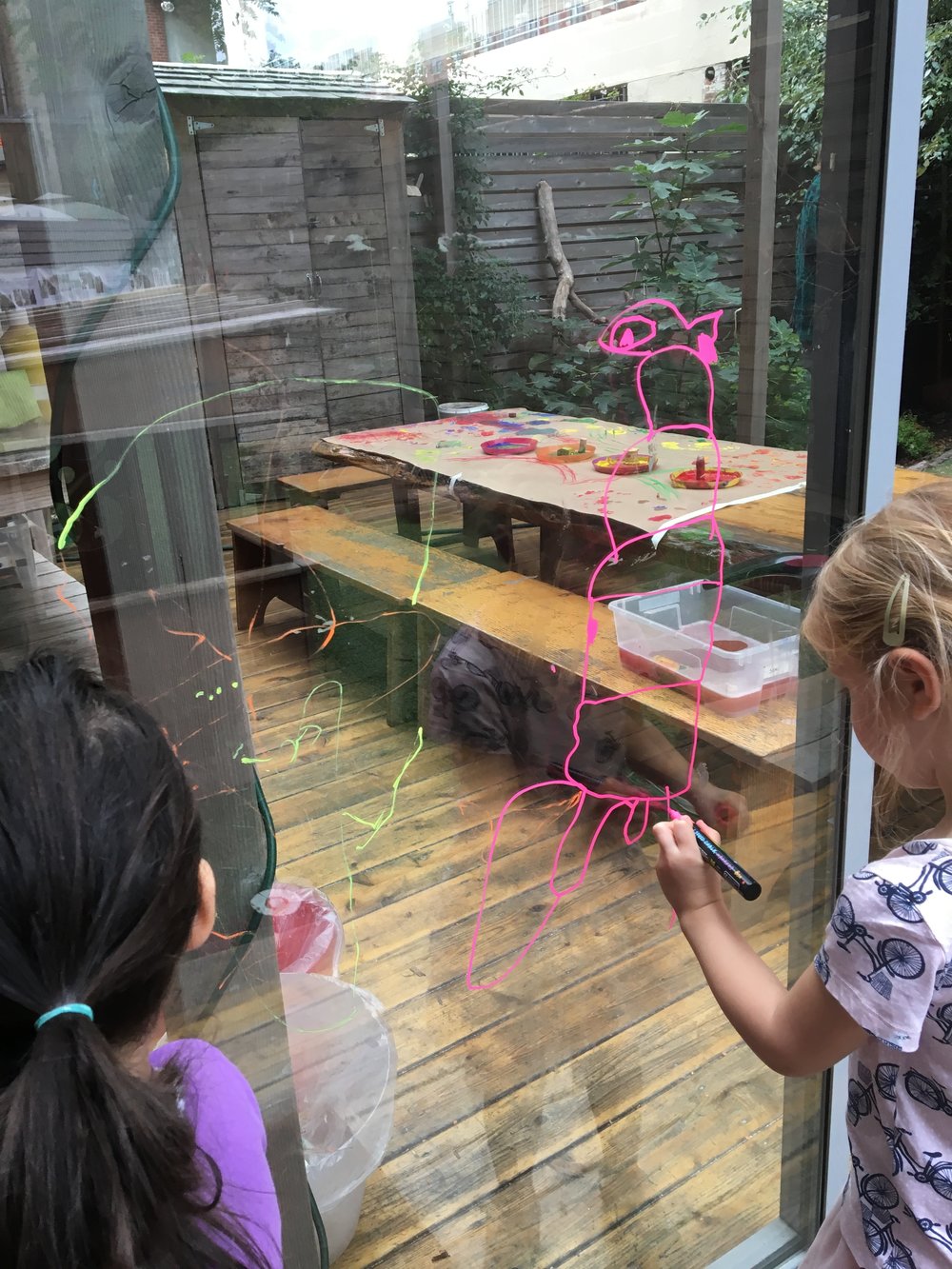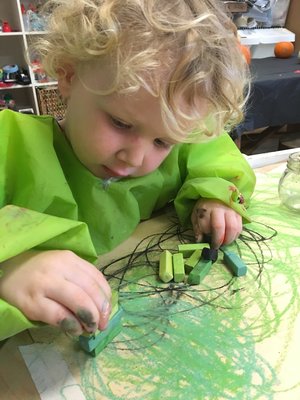 OPEN EXPLORATION
Time for playful, inquisitive, independent and self guided work for the children. Working in pairs, groups or individually, children have minimal to none assistance from a teacher. This is when they really explore the qualities of materials, all theirs possible and impossible uses and come up with many incredible ideas. This time often becomes the foundation for other work.
SMALL GROUP
This time typically consist of groups of 4-6 children, who come to the main atelier to explore a new material or artistic technique together. Sometimes the materials will be based on their curiosities, other times we challenge or push forward an existing investigation together, then there are times when children themselves ask for a particular experience. The atelierista will usually introduce a new material or/and art technique here and gently guide children's exploration of it, keeping in mind individual interests and capabilities.
STUDIO ART
Typically a time for older children to dive into more structured art experience. Together we discover different artists and artistic concepts of color, form, composition, observation, abstraction and so on. This is the time we have the most in-depth discussions and end up with the most finished product works.
YOUR ATELIERISTA
Pretty early on in life I've realized that creative language is the one I feel most comfortable interacting with the world. And since then I've spent my life learning its many nuances. Growing up in Soviet and post Soviet Russia, my stepfather was an abstract expressionist artist. He was my artistic foundation, who exposed, challenged and inspired me daily, completely refusing to even acknowledge the definitions of what was considered "child appropriate" art experiences. We lived and breathed art history, art theory, visiting various artist studios, happenings and exhibits throughout the world.
After moving to US, I went to LaGuardia HS of Music and Art, worked in galleries, small film production company which made documentaries about current important artists, and eventually graduated from Hunter College with double major of Studio Art and Film/Media, minor in Art History. I have made art using various mediums and disciplines, helped others make and display their art, learned all I could my hands on about 'how" of various platforms of self expression, but only when I had my first child did i start thinking about 'why' all of this and how can i contribute in a meaningful way. Somehow the answer was always there.
Next I have found Reggio Emilia approach to early childhood education, which highlights, respects and nurtures the magic of children, as they truly are - different, perfect and extraordinary, without dumbing things down, trying to mold them to our adult standards or making them small and insignificant. It really gave definitions to so many things i have been feeling all my life. It spoke of importance of creative thinking and communicating using 100 languages, building society in which children are not only considered, but play a major role in shaping. It was love at first read. Naturally I started looking for a place where my daughter and I can live these principles. That is how we found Scandi.
There is nothing that gives me more pleasure than to be there for first artistic discoveries. And though I am not a trained art teacher, which i actually find extremely liberating at times, over many years of experience and natural drive to hear and be an advocate for the voice of children, I keep fine tuning again and again my artistic process, as well as my ways to facilitate, guide and experience art with children, teachers and the community. I am, and always expect to, on a learning journey.
Children continue to surprise, amaze and humble me every single day and so does our collective drive to create...